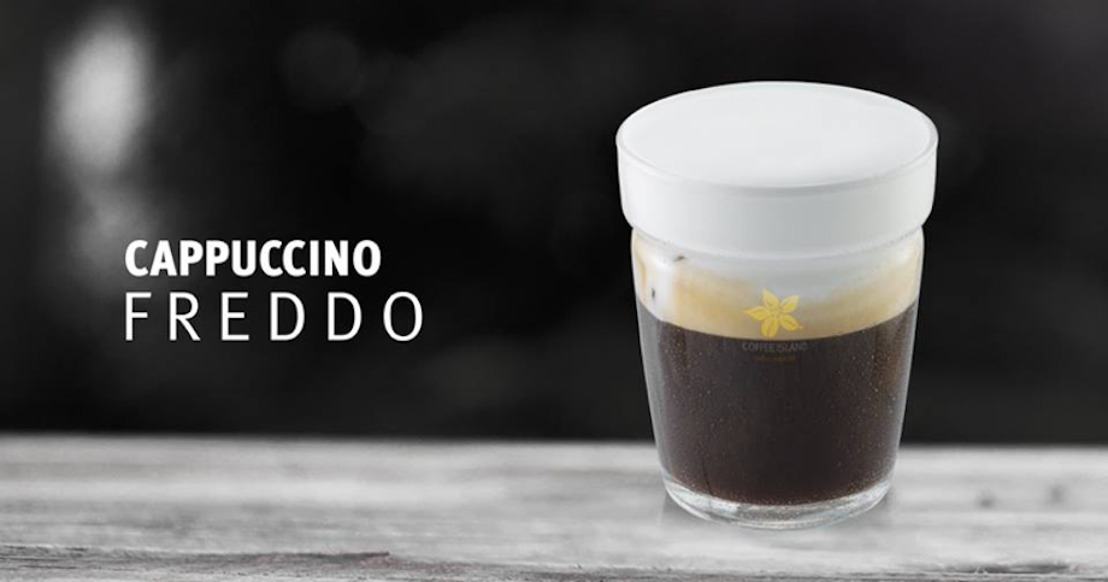 Beat the Summer Heat!
Coffee Island Introduces the Trendiest New Products to Stay Cool This Season
Monday, June 12, 2017 — Summer has officially arrived in the UK and with it comes the heat. It's the perfect time to switch your daily brew from warm comfort to cool refreshment. It's also a great reason to drop by Coffee Island, where you can enjoy delicious variations of iced coffee and other cold drinks in a cosy environment. Here's what's new at Coffee Island this season…
Meet Freddo Cappuccino – The Greek way to espresso.
Originated in Greece, freddo cappuccino is the cooler counterpart to regular ol' cappuccino. In this summer treat, iced espresso is topped with full bodied cold cream to create a refreshing pick me up for any time of the day. Alternative options include our decaf variety, deCO2ffεε, and Microfarm guest coffees.
If you prefer a pure espresso or latte on the rocks instead, we've got you covered too. Or for a truly indulgent treat, check out our signature milkshakes in flavourful combinations, such as chocolate or cheesecake.
Always on the move? Heading out for a family picnic? Try our Hario FIB and Cafflano Klassic and take your caffeine fix with you…
Hario FIB – Have your cold brew tea on the go.
Our Hario cold brew filter-in-bottle is ideal for extracting all the goodness from tea leaves while leaving out all the bitterness. It offers a unique alternative to a hot cup of tea in the morning, and now you can take it wherever you go.
Don't miss our hand-picked, natural cold extracted teas without additives and sugar in the following flavours:
Green tea: Gunpowder, Jasmine, Forest Fruits, Papaya, Mint
Black tea: English Breakfast, Earl Grey, Caramel, Fruity Blend
Instant tea: Green Peach, Lemon, Apple
Cafflano Klassic – Quality coffee meets all-in-one convenience.
If a hot cuppa is still your favourite way to start the day, this one is for you. Cafflano Klassic is an all in one coffee maker that includes all the necessary hardware for a great cup of joe; all you have to do is add your favourite beans. It's completely portable, comes with a drip kettle, hand mill grinder, metal filter dripper and cup, and it's available in black and red.
Whether it's dropping by the store for a freddo cappuccino or grabbing a cheesecake milkshake to go, the makers of "perfectly engineered coffee" provide only the best taste sensations and experiences to guests.
Visit our London store – 5 Upper St Martin's Lane, WC2H 9NY – and beat the summer heat with Coffee Island.
Go to www.coffeeisland.co.uk for more information.